Porto Rotondo
Porto Rotondo stretches from the Gulf of Cugnana to the Gulf of Marinella, a tourist port created inside a natural inlet almost perfectly circular in shape.

Exciting nightlife, jet-set, disco-pubs, international celebrities and Russian oligarchs all come here to be seen. It is a real life catwalk that reaches its peak during the summer nights, which in Costa Smeralda are even more magical.
Porto Rotondo's marina, the numerous Villas, the yachts that crowd the harbors in the summer make this destination perfect for a luxury vacation.
Things to do in Porto Rotondo
If you have chosen Porto Rotondo for your holidays you certainly love the sea and want to enjoy it from a boat.

Be it a sailboat or a yacht, all of Porto Rotondo's activities are linked to its marina and port, which were awarded the Bandiera Blu (Blue Flag) of Europe, being recognized as one of the cleanest and better equipped ports of the continent.
If you love trendy sports, do not miss the Stand Up Paddle surfing (SUP). It is a less invasive way to visit the beautiful coast of the Gulf of Marinella, slowly exploring the various cliffs and beaches visible from the sea.
It also possible to do some windsurfing in Porto Rotondo, as everywhere else in Sardinia, thanks to the numerous schools and specialized centers. For those who love the sea you can do some diving and snorkeling in the crystal clear waters of Porto Rotondo's marina.
The best events, concerts and shows are organized in July and August and take place in the Mario Ceroli Theater.
Things to see in Porto Rotondo
Porto Rotondo's monuments are linked to the designers, architects and artists who created their forms, geometry and hotel facilities.

Among these, the Church of S. Lorenzo is particularly beautiful. It is the private chapel of the Donà delle Rose family. Inside there are wooden sculptures by Mario Ceroli.
As in a little Venice, also in Porto Rotondo there is a Piazza S. Marco, the heart of the small village built by modern Venetian merchants, whose family included as many as three Doges.
Another interesting attraction in Porto Rotondo is certainly the Marina of Porto Rotondo, where luxurious boats and yachts are docked during the summer.
An interesting work of art permanently displayed in Porto Rotondo is the Via del Molo which portrays the marine food chain. It is a mosaic sculpture by Emmanuel Chapalain, a street covered in a mosaic-style granite which depicts the marine eco-system.
Porto Rotondo's best beaches
Porto Rotondo, in Northeastern Sardinia, offers small, very private inlets and breathtaking panoramic views, also thanks to the islands of the La Maddalena National Park, about half an hour from Porto Rotondo. The inlet stretches from the Gulf of Cugnana to the one of Marinella.
Punta Lepre Beach (Sporting)

This is Porto Rotondo's main beach and is located at the entrance of the Port. Called also Sporting beach because it borders with the Hotel's private beach.
Ira Beach

One of the beaches of the Gulf of Cugnana. It consists of white sand and is suitable for children for its transparent and shallow waters.
Punta Nuraghe Beach

The beach derives its name from the Point where a Nuragic village is located. It is a medium grain beach of greyish color.
Sassi Beach
This beach consists of thin sand and tiny pebble stones. Framed into a scenic cliff, the beach is sheltered and boasts gorgeous crystal clear waters, and it is one of Porto Rotondo's most beautiful ones.
Shirley Bassey Beach

A small sheltered inlet, with white sand, it derives its name from the famous singer who was among the first celebrities to regularly come to Porto Rotondo: she bought a villa and spent her summers here on holiday.
Alghe Beach

Overlooking the beautiful Island of Mortorio, this beach has white sand and a very clear seabed, with meadows of posidonia, a sign that the waters are among the clearest and cleanest. Ideal for those who love diving and snorkeling, especially thanks to the rocky seabed rich in marine species.
Where to sleep
Porto Rotondo •
Hotel close to the sea; 63 Rooms all with terrace and balcony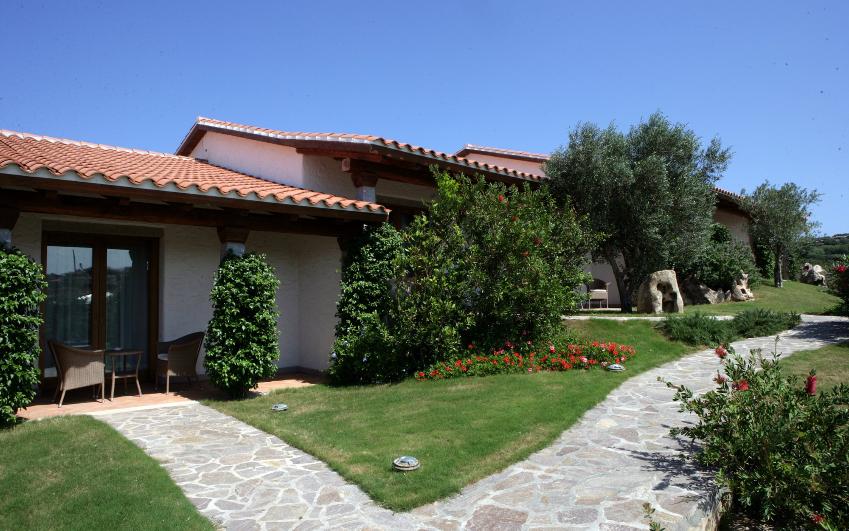 Porto Rotondo •
Prezzo per notte per persona € 198
A premier hotel with direct access to the beach, a pool and rooms with panoramic views, to fully enjoy one of Costa Smeralda's most beautiful locations.